Sumner Cemetery is here for you. You are welcome to visit whether you'd like to ask questions about future options, explore your ancestry or simply take a quiet moment or two in a peaceful setting.
Hours
Sumner Cemetery's visiting hours are dawn to dusk every day of the year, including weekends and holidays.
Sumner Cemetery is committed to serving you through the coronavirus situation while adhering to the CDC's and State's guidelines to keep us all safe. Rather than visit, please call us at 253-299-5510 for any services or other questions you may have. Funeral directors, please also call and stay in touch about services being scheduled and/or postponed. We are here to continue serving you while looking out for your safety.
Office Hours
Monday, Wednesday, Friday (Available via phone and email only)
Tuesdays and Thursdays (8:30 am – 5 pm) in office, by appointment only.
Directions
From Sumner's Main Street, go across the Cannery Way Bridge and follow the road as it curves west. Sumner Cemetery will be on your right (Pioneer Cemetery) and left (Main area) in approximately 1 mile.
From SR 167, take the first SR 410 exit and turn left onto Sumner's Traffic Avenue. Proceed north to Main Street and at the light with Main, turn left onto the Cannery Way Bridge.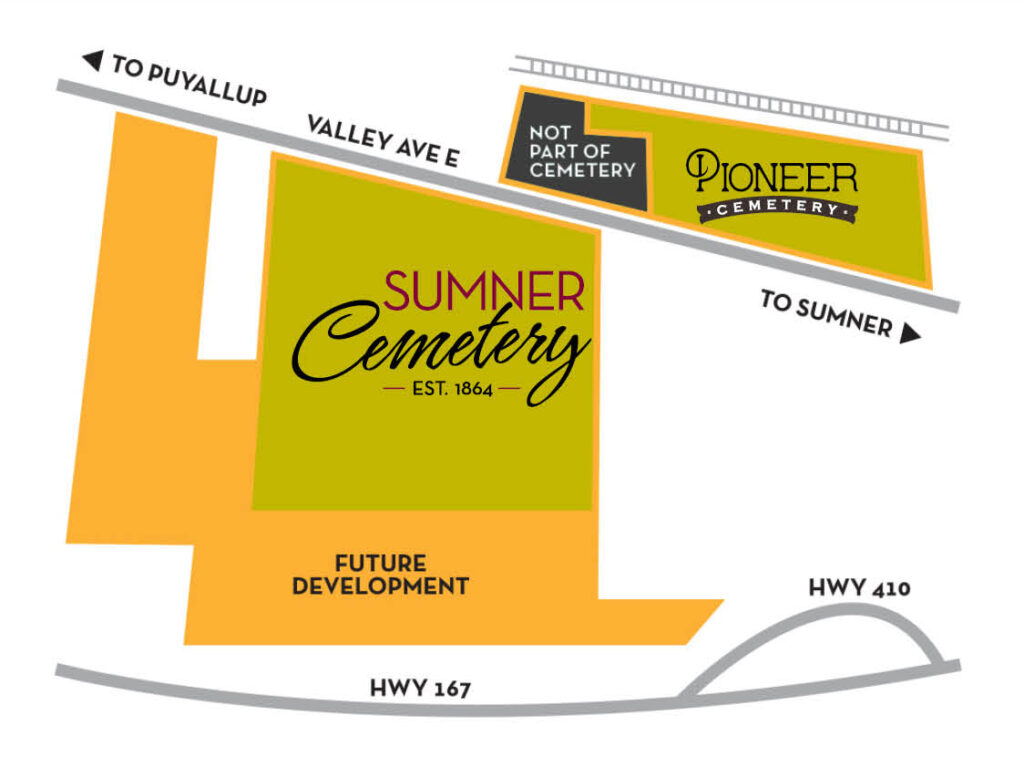 Visitor Etiquette
Sumner Cemetery is a sacred place, and we ask all guests to follow a set of guidelines to keep our cemetery as peaceful and beautiful as possible to most honor all at rest here. Ask the Cemetery Office for a full set of guidelines, but be aware that we ask guests to respect the following:
For all guests:
Avoid disturbing any graveside or chapel services, as well as any family members that are visiting their loved ones.
Weekend interments occur only on Saturday mornings with arrival of the funeral procession by 11 am.
Pets are allowed but must be kept on a leash at all times. Owners must dispose of waste in a sanitary and respectful manner.
For those visiting sites:
Artificial flowers are only permitted December through February.
Cut flowers may be placed at graves in regulation vases, available at the office for a nominal charge.
Cemetery employees will remove cut flowers as soon as they wilt.
Flag Disposal
Sumner Cemetery also serves as a place to properly dispose of worn-out American flags. Just drop them in the bin inside the Cemetery office during business hours, and the local VFW will dispose of them respectfully.